2023
April - Avril - April
2: ModelbouwLeuven 35 jaar
Vrije Basisschool Terbank
Celestijnenlaan 46
3001 Heverlee (Terbank)
inkom gratis entrée
zon/dim: 10 - 17h
info: https://www.modelbouwleuven.com

23: Modelbouwfestival IPMS Moorsele
OC De Troubadour
Vlaswaagplein 3, 8501 Bissegem
inkom gratis entrée
info: https://www.ipmsmoorsele.be/

Mei -Mai - May
Juni - Juin - June
3 & 4: Modeling Mania 2
Hall de Criées
Rue de Charneux 94,
4650 Herve
inkom 5 € entrée
10 - 18 h
info:

4: 11e Modelbouwbeurs
Middelkerkse Modelbouw Vereniging
de Stille Meers
Sluisvaartstraat 19,
8430 Middelkerke
inkom gratis entrée
9 - 17h30
info: middelkerke.modelbouw@hotmail.be
11: A small world on wheels 3
Parochiezaal Winksele-Delle
Mechelsesteenweg 1088,
3020 Winksele
inkom gratis entrée
10 - 18 h
info: https://www.modelbouwleuven.com/

Juli - Juillet - July
Augustus - Aout - August
September - septembre - september
10: Modelbouw beurs & Wedstrijd,
50 jaar Hobby Time,
De Polder, Stokerij 10 ,
8380 Dudzele
inkom gratis entrée
9 - 18 h
info:

16 & 17: Plastic & Steel, IPMS Belgium National Convention
Breaking news, new date, new location
Waregem expo, Zuidlaan 26, 8790 Waregem
info: info@plasticandsteel.be
info: https://www.plasticandsteel.be/
inkom 5 € entrée, parking: 600 plaatsen gratis/600 places gratuit
zat/sam : 10 - 18 h, zon/dim: 10 - 17 h
Expo, trade, competition, demo's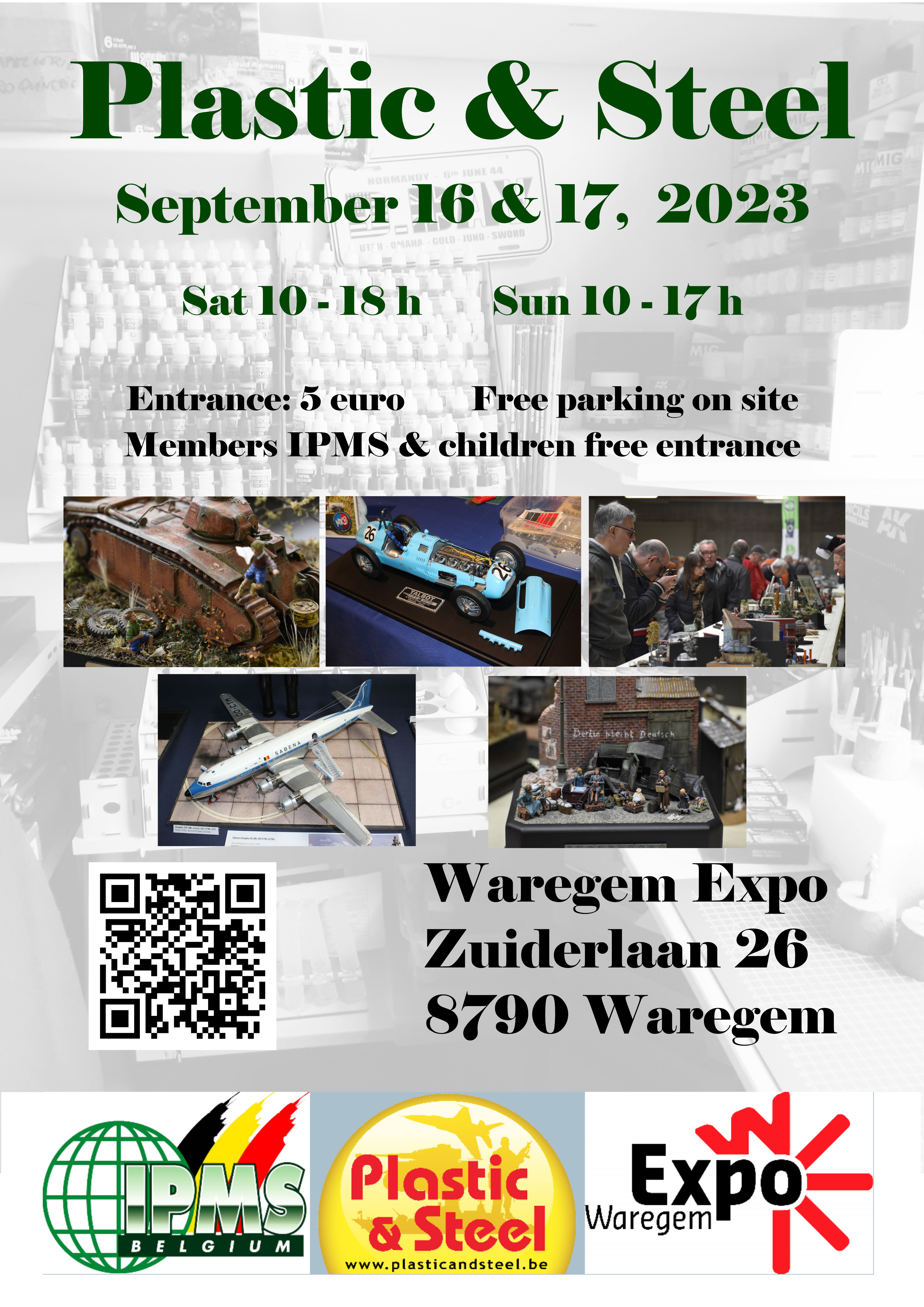 23 & 24: expo-bourse de Maquettes et Figurines Historiques de Jemeppe sur Sambre,
salle culturelle Gabrielle Bernard,
rue de la fabrique 4C ,
5190 Moustier sur Sambre
inkom gratis entrée
10 - 18 h
info: jabertrand43@gmail.com

October - Octobre - oktober
14 & 15: Scale Model Challenge,
NH Eindhoven,
info: scalemodelchallenge.com
November - Novembre - november
11 & 12: Scale Model World 2023
60th anniversary! Expo, club, SIG displays, traders, competition, etc.
The International Centre, St Quentin Gate, Telford,
Shropshire, TF3 4JH (UK)
info: https://ipmsuk.org/ipms-scale-modelworld/
Admission free for IPMS Members (upon showing a valid IPMS (national) membership card)
zat/sam : 10 - 18 h, zon/dim: 10 - 16 h



25: Euro Scale Modelling,
IPMS Nederland Nationals,
info: euroscalemodelling.nl
December - Decembre - december
10: Belgian Scale Modellers Convention,
Klein Boom 604, 2580 Putte
info: bsmc.be
IPMS Belgium is niet aansprakelijk voor de juistheid en volledigheid van de hiervoor vermelde informatie. Deze informatie is overgenomen van de desbetreffende organisatie en kan altijd zonder nadere aankondiging worden gewijzigd. Informeer altijd bij de betreffende organisatie of het evenement doorgaat voordat je vertrekt.
Affiches alleen voor clubs aangesloten bij IPMS Belgium.

IPMS Belgium n'est pas responsable de l'exactitude et de l'exhaustivité de l'information ici publiée. Cette information a été recueillie auprès des organisateurs concernés et peut à tout moment être modifiée sans notification. Avant de partir, informez-vous toujours auprès de l'organisateur si l'événement a bien lieu.
Affiches uniquement pour les clubs affiliés à IPMS Belgium.

IPMS Belgium is not responsible for the accuracy and fullness of the hereby mentionned information. This information was gathered from the organisers themselves and can always be altered without due notice. Always make inquiries with the organisers about the event before departing.
Flyer only applicable for clubs affiliated to IPMS Belgium.